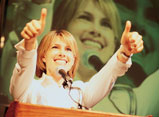 Download the Accelerate! Overview
This innovative program is designed for experienced business leaders. With a half-day group review of critical presentation principles followed by two, one-hour long individual coaching sessions, you can expect transformation.
Even though you give presentations on a regular basis and feel confident in your skills, you know that continued skill training is vital to your long-term success. As business challenges emerge, you want to make certain that your speaking skills remain sharp and polished so you can project an image of confidence and communicate with greater strength and clarity. Yet your time is precious and you don't want to invest in training that will keep you out of the office.
Challenge: How do seasoned business leaders who desire to reach the next level balance their time constraints?
Solution: Accelerate! Advanced Presentation Skills is an innovative training experience geared for successful business leaders who want to improve their presentation skills but have little time to do so.
Learning Outcomes
By the end of the Accelerate! Advanced Presentation Skills program, you will be able to:
Understand the importance of creating and maintaining audience connection and use critical action steps to keep your audience involved and responsive
Strengthen the critical delivery skills of physical presence, vocal resonance, and distinctive language by learning advanced speaking skills and stage techniques
Learn and implement a fail-safe method for content development that ensures your ability to stay on message and keep your audience on course
Tell powerful stories and use various rhetorical devices, including examples, data, quotes, and other rich sources of support evidence, to create a meaningful connection with your audience
Use state-of-the-art visual aid strategies, including PowerPoint, to reinforce your message and keep you and your audience on track
Develop a plan for continuous learning so you can refine your presentation skills throughout the course of your career