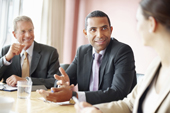 Download the Recharge! Overview
These days, good isn't good enough. You want your sales team to be compelling and competitive—to be informed and polished in every customer interaction.
2 Days. 8-16 Participants. 1-2 Facilitators.
Todays sales teams face tougher challenges than ever before. Globalization, shifting market demand and limited customer attention are just the tip of the iceberg. In order for your sales team to excel in today's marketplace, they need to stay current, hone their skills often, and adapt to fast-changing market conditions.
Your sales team speaks to customers every day—on the phone, in person, on the web. They're the face of your company, representing your brand and differentiating your offerings, so you need them to be compelling and competitive every time. And in today's global environment, they're communicating across borders, cultures, and time zones, which raise the stakes even higher.
In order to orchestrate team solutions, build your brand, and create customer loyalty in a consistent and compelling way, your salespeople need to be trained on the most effective presentation tools, methods, and techniques to help them stand out and create winning partnerships.
Challenge: Your sales force gives presentations often but how do you equip them to successfully perform in today's high stakes environment?
Solution: Recharge! Sales Presentation Skills will provide sales and field professionals with the confidence and advanced skills to consistently engage customers in quality interactions.
Learning Outcomes
By the end of the Recharge! program, you will be able to:
Create and maintain customer connection using critical action steps to keep your customer involved and responsive
Accelerate your performance delivery skills: physical presence, vocal resonance, and distinctive language to achieve greater customer engagement
Implement the DeFinis Navigator, a fail-safe method for content development that boosts your ability to stay on message and keep your listener on course
Handle any questions or objections with tact and ease
Use various rhetorical devices including stories, examples, data, quotes, and other rich sources of support evidence to build more customer-focused content
Use visual-aid strategies to strongly support your message and create customer involvement