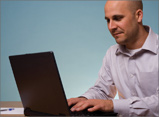 Download the Technical Demo Presentation Skills Overview
You will discover why your audience wants you to succeed, and you will be introduced to concepts, tools, and best practices to help you do so.
3 Days. 12 Participants. 1 Facilitator.
As a technical presenter, you face considerable challenges. Not only must you know your product cold, be skillful in running the software, and adept at the picks and clicks, but you must also engage the customer, speak to be understood by non-technical people, articulate the key benefits, and present a calm and confident demeanor so others perceive you as a competent, committed, and trusted partner.
Today's technical presenters need to master the fundamental principles of presentation skills that are necessary to develop deeply enriching, highly engaging, and long-lasting relationships with their users and customers. By having greater command of the presentation environment, technical presenters will be far better equipped to confidently represent their company's product line, attract and retain customers, and increase the satisfaction of the customer experience. If the technical specialist can be more confident and persuasive when in front of a group, he or she will better able to contribute more readily to their company's success.
Challenge: So how can you learn to give great technical presentations to both technical and non-technical audiences and keep attendees and your customers interested, alert, and excited about your products?
Solution: The Technical Demo Presentation Skills program will give you the skills you need to make your technical presentations come alive!
Learning Outcomes
By the end of the Technical Demo Presentation Skills program you will be able to:
Understand the importance of creating and maintaining audience connection and use critical action steps to keep your audience involved and responsive
Clearly understand the "best practices" used by highly effective speakers in all industries, with a special application to demo presentations
Learn and implement the DeFinis Navigator, a fail-safe method for demo content development that boosts your ability to stay on message and keep your audience on course
Manage nagging presentation anxiety and build self-confidence
Handle a Q&A session with skill, tact, and clarity
Create an action plan for on-going growth and development