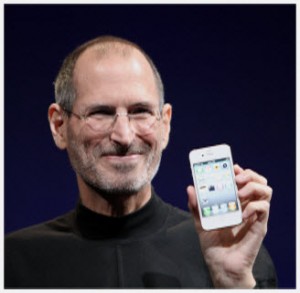 Anyone in the public speaking business has likely paused at the news that Steve Jobs has resigned from the iconic Apple Computer. We all knew it was coming, given the serious health issues he has battled since being diagnosed with treatable pancreatic cancer in 2004. But it is a surprise nonetheless.
His career has been nothing short of inspiring. Jobs had been named the most important person in personal technology at the start of his career in 1978, and then again at the end in 2011. Over the years, he has brought a wealth of innovative products to the world that have touched and changed nearly everyone's life. And though his primary goal wasn't to inspire presenters, that's exactly what he did, giving us all a solid roadmap to follow. As sad as having him step down from his role at Apple is, the thought that he will no longer be giving his exciting keynote presentations is even sadder.
I have analyzed Jobs' speeches many times over the years, and while I have never had the privilege of working with him, I admire that he is such a thoughtful and skillful practitioner of the best public speaking principles. He embodies the core success principles top notch speakers are known for, and he seemingly follows the DeFinis Communications methodology to a T, such as:
Delivery Skills: Jobs has excellent physical presence skills (eye contact, facial expression, posture, gestures, and movement), highly developed vocal resonance (uses his voice carefully, clear pronunciation and enunciation, and effective use of pitch, inflection, rate of speech, and strategic pauses), and a masterful use of distinctive language (uses short sentences never more than eight to thirteen words, chooses exhilarating words that are both powerful and emotional, and keeps his language clean of fillers and unintentional slang). He has the talent for drama, clearly conveying his passion.
Content Development: Jobs clearly understands his audience, and as such, he respects the importance of structuring his presentation's content for each group he addresses. He defines his purpose and states it clearly and succinctly. He develops a clear beginning, middle, and end. He begins with a strong hook, states his purpose, and then lays out the agenda of his three to five main points. He develops the body of his presentation with a series of touch points, including analogies, metaphors, stories, data, statistics, and humor. And he uses thoughtful, sequential transitions, and ends with a summary, thank you, and final thought—"one last thing." It's textbook perfect in every way.
Visual Aids: Jobs' visual aids are the opposite of the dense eye charts we so often see in typical technical presentations. His slides are image based with large colorful images, one big statistic, or one powerful graphic. He uses these images to augment his key point, not to overshadow it or mute his performance. His slides are exciting and dynamic visual entertainment, with a powerful point.
The Bar Has Been Raised
Jobs has consistently been one of the most powerful and best role models for business speakers in high tech. And he makes public speaking look easy, seamless, and enjoyable. But this is not due to a natural talent. I've heard that he works hard to prepare and even harder to rehearse so that every moment is well coordinated. He spends days, not mere hours, in preparation for one of his large main stage product announcements. Indeed, he has set the bar high.
In the only commencement speech he ever gave at Stanford University six years ago, Jobs told the newly minted graduates, "Your time is limited, so don't waste it living someone else's life." That statement is so true for public speakers. While it's great to use Steve Jobs as a role model for excellent presentation technique, what made him really great was that his technique allowed him and his message to shine through. And he would be the first person to tell you to model his skill, but to develop you own personal spirit and style.
In his resignation letter, Jobs wrote, "Apple's best days are ahead of it." While that may seem hard for us to believe today, we know that by stating this, he is preserving his legacy—a legacy of poise, power, and passion.