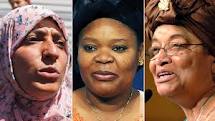 In 1903, two years after the Nobel Foundation was established, a Nobel Prize was awarded to a woman, Marie Curie, for the first time. Women have been winning Nobel Prizes ever since, but in very small numbers compared to their male colleagues. But is the trend possibly turning? It could be, because this year, not one, but three women were awarded the Nobel Peace Prize: Ellen Johnson Sirleaf, Leymah Gbowee and Tawakkul Karman. While they were awarded the prize jointly, each stands out on her own as a true inspiration for women everywhere.
Ellen Johnson Sirleaf: Liberian president
Ellen Johnson Sirleaf is Africa's first and only female elected head of state. Over the years, she established a reputation as a firm financial politician, which earned her the nickname "Iron Lady." When she was sworn in as Liberia's first female head of state in 2006, the country was emerging from a 14-year civil war. Millions had lost their lives and the country's infrastructure was in shambles.
Despite the obstacles, Sirleaf found a way to unite a country that had only known destruction. She secured debt relief for Liberia in excess of $4 billion. She also managed to convince investors that it was worth investing in a country that was small yet rich in natural resources. Additionally, under Sirleaf's leadership, the export ban on diamonds and precious wood was lifted. In short, she gave people a new vision of the future.
Leymah Roberta Gbowee: Liberian peace activist
Leymah Gbowee was 17 when war broke out in Liberia in 1989. She had just finished high school and was about to begin studying medicine when her community fell apart and her dreams got put on hold. When the warlord Charles Taylor became president in 1997 and the brutal conflict in Liberia escalated, Gbowee decided she would fight for peace with the women of her country. She quickly found supporters for her cause, with both Christians and Muslims joining her at rallies and peaceful demonstrations.
In 2002 Gbowee founded the movement Women of Liberia Mass Action for Peace. In 2004 she was appointed to Liberia's Truth and Reconciliation Commission, which aimed to foster dialogue and stability. Two years later she became an advisor to the Women Peace and Security Network. Today she leads the organization from its headquarters in Ghana's capital, Accra, where she lives with her family.
Tawakkul Karman: Yemeni human rights and democracy activist
Tawakkul Karman is one of the most energetic and courageous democracy and human rights activists in Yemen. Men and women alike are counted among her followers, some of whom call her the "Mother of the Revolution."  Since 2007 Karman has organized weekly protests outside government buildings in the capital Sanaa. As a result, she has been arrested by security forces and jailed numerous times.
As a blogger and co-founder of the organization Journalists Without Chains, Karman supports the interests of fellow women. For years she has called for women to fill at least one-third of all public jobs in Yemen. That's a huge goal for the country, considering that Yemen is extremely conservative and women are often treated as second-class citizens.
Upon hearing that she had been awarded the Nobel Peace Prize, she described it as a victory for the Arab democracy movement as a whole. She called it a signal that the era of authoritarian rulers was coming to an end in the region.
*****
I applaud these women and am humbled by their sacrifices and actions. They are true heroes, and their work and words are an inspiration for women everywhere.
This blog is part of my Wednesday for Women blog series, where I feature stories, resources and information to help women gain greater influence, power, and confidence in their professional and personal life. Please enjoy these weekly Wednesday blogs and forward them to the powerful women in your life.
Sign up for our monthly newsletter to receive valuable tips, techniques and updates on the latest news and events from DeFinis Communications.