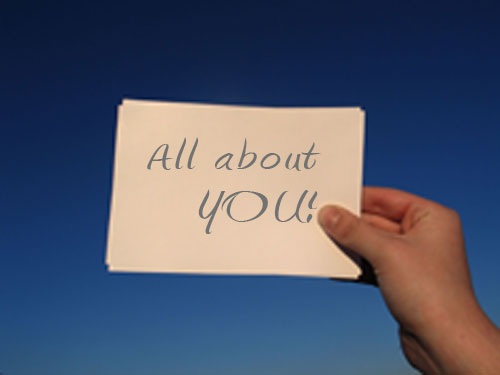 A client suffering from a mild case of public speaking anxiety recently told me, "When I'm giving a presentation, I'm too concerned about what people think of me to act like 'the leader.' I don't want to stand out or project the notion that I'm better than or more knowledgeable than other people in the room. I guess I just don't want people to think it's all about me."
I told her that I understood her discomfort, but as the head of her department, she was expected not only to assume the role of leader, but also to provide clear direction and information so others could benefit from what she had to say. I explained that this ability to influence others was one of the most powerful ripple effects of public speaking. Then I told her the hard news, that when you are in the role of public speaker, you are solely responsible for the experience of everyone in the room. To which she blurted out: "Yikes, that's a terrifying thought!"
When you give a presentation it really is all about you, but perhaps not the way you might think. It's about:
Your ability to connect with and influence others.
Your knowledge of your audience and your understanding of what they need from you.
Your grasp of your topic and your intellectual rigor in delivering it.
Your thoughtful planning, preparation and rehearsal.
Your skillful ability to invite the audience to participate and engage with you at the highest level.
What it's not about, on the other hand, is being arrogant, egotistical, overconfident, or condescending to your audience, or acting in any way superior or disrespectful. These negative and unappealing behaviors have no place in a professional presentation, as they will only serve to confuse and alienate your audience and cause them to be resistant and defensive. Fortunately, I don't see these extreme behaviors very often, but they are the very characteristics that some people, including my client, fear they will project if they assume the leadership role and act with legitimate power and authority.
My client's egalitarian instinct is a noble one to be sure. But there are times, such as when giving a speech, when your role gives you the right to assume leadership and confidently impart your knowledge, experience and wisdom. As I told my client, "If you keep yourself in check and demonstrate effective presentation behaviors that show your conviction and personal power, you can rest assured that it really will be all about you—in only the best sense of the word."