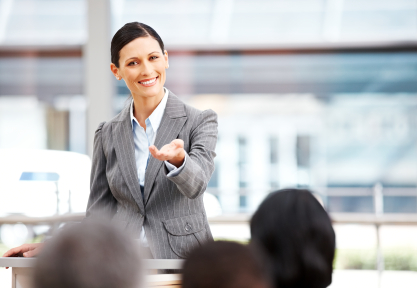 Back in 1990, Ron Hoff wrote a popular book about public speaking entitled I Can See You Naked. The idea was that if a speaker looked out at the audience and imagined everyone sitting in their birthday suits, he would take a scary crowd and turn it into a docile nudist colony, thus defusing their power to intimidate.
For many people, that kind of visualization worked wonders in building confidence. But for the Nervous Nellies among us, it actually backfired. For them, the image is reversed. Instead of the speaker looking out at a group of meek naked people, they imagine an entire audience who can (gasp!) see the speaker naked! That's what can happen when you let your nerves get the best of you and put your anxiety on parade. When you act like a Nervous Nellie, your audience really can see you naked. But when you act like a confident speaker and do the things they do (even though you may still be nervous), the audience feels more comfortable and responds accordingly.
Here are 4 traits that distinguish confident speakers from Nervous Nellies:
Confident speakers are proud. They stand erect, hold in their stomachs, pull back their shoulders and lift their torso. They stand tall and strong, showing the audience by their posture that they are poised and credible. The confident speaker is aware of the positive impact of strong posture on others and expresses their personal pride through posture.
Confident speakers are compassionate. They pay attention to the audience as a person, not a crowd. They don't categorize or stereotype. They care about others. This means the speaker looks at people's faces, uses penetrating eye contact, shows a blend of serious and lighthearted facial expressions, and tries to connect at every level—verbal and non-verbal.
Confident speakers are spontaneous. They plan and prepare their presentation and put in many hours of rehearsal, but they also know that is just the beginning. Once on-stage they follow their intuition, understanding the importance of "reading and relating" to the audience in the moment. They comfortably adjust the planned speech whenever necessary to make it more relevant and meaningful.
Confident speakers are generous. There really is something to the phrase "giving a speech." The world has been turned in a more positive direction because of brave people who spoke out—think Dr. Martin Luther King, Jr., Gandhi, Gloria Steinem, Margaret Meade, Eleanor Roosevelt, just to name a few. But it has also been turned by the everyday speaker who decides to be more persuasive and passionate. All of us have a point of view and set of beliefs that can also change the world.
So the next time you give a presentation, if picturing the audience naked helps, by all means do it. But if you're a true Nervous Nellie, keep your audience fully clothed and make a commitment to use the traits and strategies that confident speakers employ. Be proud, compassionate, spontaneous, and generous, and then dare any audience to see you naked. That's the surest way to conquer your fears in the midst of any crowd.