Tracking the philanthropic activities of Melinda Gates is like watching an army of ants build their colony. Yet she is not just the queen; she is also a worker, taking on the roles needed to build the vision, implement the plan and change the world.
If you ever think that everything going on in our world today is so bad that there's nothing you could possibly do to spark change, look in the direction of Melinda Gates. She is the perfect antidote to that outlook. She turns doom, gloom and apathy on its head. As a powerful female role model and spokesperson for the projects and people who have benefited from her good works, she continues to inspire and uplift us. As a speaker she also gets it done. She speaks with passion and sincerity, and listeners are moved by the sheer scope of her vision and her can-do spirit. I talked about her personal power and communication style at length last year in this blog.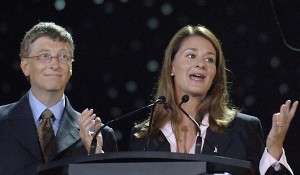 What I find so endearing about Melinda, though, is that while she is a compelling speaker and philanthropist, she rarely seeks the spotlight. Quiet and thoughtful, she is content diligently working on the causes and initiatives that matter to her. If no more than a blip about her success appears in the media, so be it. She is the strong and silent leader—someone who can move an army of people with her mere presence.
I am also impressed that she's not singularly focused on one cause. She has her hand in many projects, giving us the opportunity to see her in action in a variety of settings. While most people know that she and her husband Bill work in developing countries, focusing on improving people's health and giving them the chance to lift themselves out of hunger and extreme poverty, she also works hard at home to make sure local needs are addressed.
For example, The Bill and Melinda Gates Foundation, which she and her husband directly oversee, has been awarded LEED-NC (Leadership in Energy and Environmental Design for New Construction) Platinum certification from the United Stated Green Building Council, making it the largest, non-profit LEED-NC Platinum building in the world. Completed in the spring of 2011, the campus is located in downtown Seattle across the street from the Space Needle. It replaces an asphalt parking lot with a campus that returns more than 40 percent of the site back to green space via two-acres of living roofs and native plantings. At 639,860 square feet of occupied space, the project demonstrates how large-scale sustainable architecture can be delivered at the highest level.
In addition, their Foundation is also working with Starbucks to encourage local coffee drinkers to help King County public school teachers (the county where the Gates are located). King County Starbucks stores are now giving away $10 gift cards for DonorsChoose.org, an organization that helps teachers ask for money for classroom materials and equipment. People who pick up a DonorsChoose.org gift card will be able to go online and pick which school project they want to support. About 100,000 gift cards are expected to be distributed at King County Starbucks. The cards will be paid for by the Gates Foundation.
So from famine and poverty overseas to environmental concerns and education issues at home, Melinda Gates is one of our most inspiring women role models today. Her endearing style, unyielding certainty, and vision for what can change in our world have set the bar high for leaders everywhere…and for individuals too. So if you ever think your actions won't have an impact, take a lesson from Melinda Gates. While you may not have billions of dollars for philanthropic generosity, you can rest assured that even the smallest ant can make a difference.
This blog is part of my Wednesday for Women blog series, where I feature stories, resources and information to help women gain greater influence, power, and confidence in their professional and personal life. Please enjoy these weekly Wednesday blogs and forward them to the powerful women in your life.
Sign up for our monthly newsletter to receive valuable tips, techniques and updates on the latest news and events from DeFinis Communications.