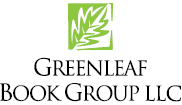 Got Platform? Part 2 of a Three-part Series: Influence
Greenleaf Book Group is a publisher and distributor that specializes in the development of independent authors and the growth of small presses. Our publishing model was designed to support the independent author and to make it possible for writers to retain the rights to their work and still compete with the major publishing houses. Carly Willsie is an Assistant Consultant at Greenleaf where she handles the acquisitions process. In her current role, Carly reviews submissions for market viability and superior content, and works to identify books that will be great additions to Greenleaf's respected line of titles. She also manages the Big Bad Book Blog and internal social media efforts.
The term "platform" is ubiquitous these days. We see it in the business world, hear it bandied about among authors, experts, and speakers, and we experience it in the social media landscape. This phenomenon isn't accidental. Platform is a powerful concept that reflects the content, brand, positioning, credibility, audience, and intellectual property you develop. Your platform lives at the intersection of ideas, influence, and income—and your book's success depends on it.
In this three-part series, we'll share valuable information and resources to help you create, maintain and boost your platform. To learn more about Greenleaf Book Group's platform development program, visit greenleafbookgroup.com/platformdevelopment.
Platform Part 2, Influence
Money is personal. Spilling your economic guts to anyone other than your spouse, partner, or family members is unheard of to most people. But not to Suze Orman. Orman, a financial advisor-turned-television host and bestselling author, listens to personal financial pain on a daily basis and gives empowering solutions for people in tough situations. It's especially helpful in today's economic climate. Her advice is often abrasive. She challenges her fans to make immediate proactive changes in their financial lives. And as creatures of habit, it's never easy for us to make changes like these.
With her loud, in-your-face approach and established expertise, Orman's reach extends to millions of people. They love her, and her Twitter community alone shows it, topping 1,100,000 followers. Her TV program, The Suze Orman Show, has been on the air for ten years and continues to be one of the most highly rated programs on CNBC. She's also penned nine consecutive bestsellers and hosted the most successful fundraiser in the history of PBS. That's powerful.
Everyone wants Suze's advice. And when Suze talks, not only do people listen—they share what they've heard with others. She gets people talking, which helps drive word of mouth. It's hard not to admire Suze's ability to wield widespread influence and connect. And her path to platform success is worthy of study. It didn't happen overnight. But she tapped into a deep need (personal financial advice) and transformed that into a brand—one that allows her to continue to capture people's attention.
 If ideas are your foundation when it comes to building a successful platform,  influence is your most important tool. Without meaningful influence, great ideas can die. So you want to be sure to find your audience, cultivate your relationships through offline and online channels, and build a following.
Remember, influence is about capturing people's imagination and emotion, their hearts and minds, and engaging them to share your ideas. It's essential for your platform. Influence also allows you to amplify your message as it moves from person to person to group to larger networks. Here are four driving points behind building influence:
1. Provide great content.
We've said it once and we'll say it again: You need to begin with a solid content strategy. You need content designed around a problem or pain point for your target audience, content that exists in different formats to help different types of learners. Orman's audience needs financial advice. She provides it across several media: her website, TV, radio, social media. And Orman not only makes sure that her financial recommendations are top-notch, she also makes them in a way that's unique and personable.
When you create consistently great content in different formats, you provide value and benefit to your audience and win mindshare. You get them talking. Eureka! That's influence.
You can read about how to get started on creating content that people care about in part 1 of Greenleaf's platform development series.
2. Help your audience share your content, online and offline.
People want to share. Sharing information is not only entertaining, it's educational and gratifying, too. Use our natural tendency to share—your job is to connect with people and give them tools to share your message.
Your content should be designed to resonate and get people sharing. If it's not worth their time, they won't share it. And it's not worth your time to create. So make it shareable, fun, different, or controversial.
It's essential to have a diversified web presence. A clean, professional, well-designed, and easily navigated website experience is a necessity—but don't stop there. Start blogging regularly and reach out to other bloggers in your arena. Consider doing a blog swap to build your readers. Maintain your social media presence on Facebook and Twitter, and make an effort to regularly post relevant information and interact with your followers. Making a webinar, podcast, or video series is a great way to share your content—and those media are usually the most viral.
According to a HubSpot survey, U.S. Internet users spend three times as many minutes on blogs and social networks than on email. Forty-six percent of people read blogs more than once a day. Is your content part of their conversation? Track your online influence by comments received, feedback given, number of likes, and the frequency of sharing among your readers, fans, and followers.
Face-to-face sharing is also a part of your influence. Offline, conversations happen following a presentation you give or an appearance you make. Always give them a (branded!) handout with your most valuable content—something that people will leave on their desks and discuss with their coworkers.
3. Do some sharing yourself.
Linking to videos and sharing links to notable content, even if it's not your own, is low-hanging fruit you can do every day to create interaction and build up your influence. Show your followers that you care enough about them to share content that others create—use your influence for more than just a personal advertising tool, and it will, ironically, become one. Note that your brand and image alignment matter. So if you're a health expert, make sure you look like the embodiment of health and that you're sharing information about well-being.
Your fans will want to know a little about you, too. In return to her fans, who share very private information with her on a daily basis, Orman makes sure that she puts herself out there as well. On Suze's "About Me" page of her website, viewers find a video—not the usual paragraph upon paragraph of description. The video not only gives viewers a sense of Suze's expertise—it gives them a sense of her personality. She also has a highlighted section of her website devoted to "scrapbooks." You'll find her fans calling her "girlfriend" left and right.
Sharing notable content from others—in addition to the content you create on your own—will help you build influence and trust. You're adding value, including people in your conversation, and building your credibility. You're promoting great content. And you're coming from a place of contribution. Your fans know that they can trust you to give them valuable information, and they'll tell other people to use you as a resource.
4. Quantify.
Regularly quantify where you are in terms of influence. Analyze the number of online connections and offline contacts you have. It's a good rule of thumb to measure where you are monthly or quarterly. Track the number of fans, followers, and page hits you have. This is especially important if you're spending any money on ad campaigns. Make sure your ad spend is converting into influence.
A quick tool for measuring your influence is Klout Score. [http://klout.com/corp/kscore] Klout Score gives you a ranking based on a few different components, including the number of people who see your social media posts; the number of people who re-share your posts; and the relative influence of other people in your network. Our bet? Orman has a great Klout Score.
As you move forward to build influence, focus on setting goals and growing your networks exponentially. Your platform grows with each "like" and each mention you receive. Facilitate the process by providing great content, interacting with your audience, sharing relevant links, and measuring your status. Pay attention to those—like Vaynerchuk, Orman, and others—who have mastered the art of influence. And most importantly: have fun with your influence-building. What's more exciting than sharing your ideas and making new friends?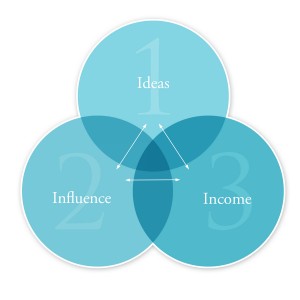 Check in with us next week for part 3 of this series, where we'll uncover how you can use the combination of great ideas and high influence to generate income.
Interested in getting a read on where you are in the development of your platform? Find out how you rank at MyExpertScore.com. It's a free tool we've created to help you measure your current status by giving you a personal expert score. One you finish the test, we'll give you additional strategies to take you to the next level. Give the test a try, and feel free to get back to us with any feedback!