One of my colleagues attended the Sustainable Brands 2009 conference last week in Monterey, California. He kept in touch with me during the week with periodic updates, text and tweets. For anyone interested in seeing numerous conference speakers focused on cutting edge green industry topics, this was the place to be. I hope you will enjoy his guest report on some of the conference activities and speakers.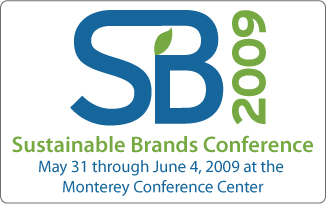 With over 75 different speakers ranging on topics from recycling to climate change to consumer consumption, the Sustainable Brands Conference of 2009, hosted by Sustainable Life Media, was at times an overwhelming introduction to the fledgling green business industry. Mornings were filled with creative presentations from Fortune 500 companies, small startups and non-profits, and each afternoon was packed with optional breakouts that allowed the SB participants to get to know each speaker more personally.  While some speeches were obvious product plugs and some speakers appeared lost in the wild world of public speaking, two presentations stood out above the others.
When Dev Patnaik, author of Wired to Care, first took the stage, I was shocked by his resemblance to the "PC" character from Apple's clever advertising chain. However, his presentation hit home and made such a strong case for the importance of empathy in business practices that his Revenge of the Nerds appearance took a backseat to what he had to say. Patnaik's clear message was that the success of a product can come from the innovation of a company "taking a walk in their consumer's shoes."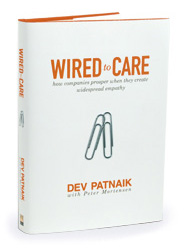 For example, when a company like Harley Davidson makes a motorcycle, they are dedicated to gaining real knowledge and experience about what it feels like when riding a chopper. Because they want to give the customer an exceptional riding experience they strive to create an authentic connection to the outside world that builds consumer loyalty. This connection is what inspires such a rabid consumer/fan base for Harley Davidson and is what separates the company from others who do not have as strong of an empathetic relationship with their consumers. Patnaik's presentation highlighted these connections. He did a great job using humor and to-the-point examples to demonstrate the true value of successful consumer empathy.
Another speaker, Andrew Winston, is a best-selling author (Green to Gold, 2006) and successful green business pioneer. His presentation focused on his belief that "green" isn't optional anymore. Winston delivered a creative and powerful call to action that stressed the concept of "disruptive innovation" (innovating to inspire change in the business world), and he motivated the audience to seek out a new path toward a sustainable lifestyle.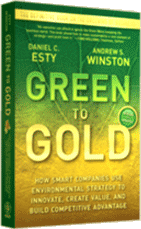 As I was watching him speak I couldn't help but notice how easy it was for Winston to appear confident and comfortable in front of an audience. This stems from his obvious public speaking experience, but also because of his enthusiastic audience. When you're delivering a passionate speech to six hundred of your peers who all agree with you, it should be a walk in the park. And it was. Winston's audience was on his side. A more difficult form of public speaking lies in presenting to those who disagree with you. Winston addressed this challenge, claiming that he had just recently spoken to members of the steel and construction industry, a much more difficult audience. Nonetheless, from watching him on stage at SB 2009 I am completely convinced that his stage presence and presentation skills helped him deliver a message that was just as powerful and inspiring.  You can watch Winston speak here (note his great hand gestures!).
The next time a conference takes place in your area, be sure to attend it, even if it's on a topic that appears unrelated to your profession. These conferences are an excellent place to watch some great speakers. Keep yourself open to learning from speakers in every industry, and you too can become a world class speaker who inspires others with your skills.