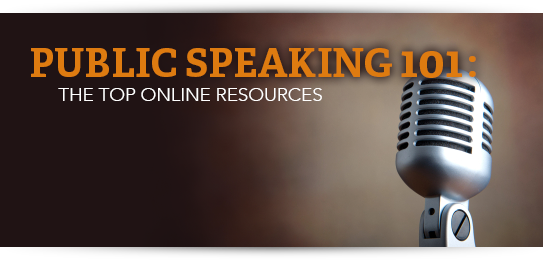 In many career paths (business, media, PR, etc,), public speaking skills are essential. Whether giving a presentation to your boss, a group of your peers, or simply interviewing, knowing how to express yourself and your ideas clearly is critical. The good news is that there are an incredible number of online resources that can help you sharpen your skills. The bad news? Well, there are an incredible number of online resources to sift through, making it difficult to find what will help you the most.
The folks at Masters In Communication realized this double-edged sword … and they did something about it. Knowing that there are lots of great resources for speakers online, they set out to compile and highlight the best of the best. The result is Public Speaking 101: The Top Online Resources, which are broken down into four categories:
1. Public and professional speaking
2. Presentation blogs and tools
3. Speechwriting
4. General communication and debate
So how did they decide which people and companies to include in their list? They began their research by perusing search engines and asking their current readers for recommendations on quality sites. After contacting a few of the early contenders, they sought out more recommendations from those in the public speaking field. After all, who would know the top online resources better than those actually in it?
From there, they examined each resource and attempted to categorize and accurately describe each site for their readers. Many sites received quite a few mentions and had large followings on social media, so it was easy to identify them as deserving of inclusion. Others may not have been as strong in their followings, but they offered deep content and valuable resources and insights on the subject. Ranking these sites exactly would have been too difficult and subjective; coming to a consensus on 101 great sites to include on a comprehensive list was more practical. The result is the comprehensive list that's published today.
So if you're tired of endless searching for reliable information about public speaking, check out the list (scroll down to entry #6 and you'll see me!). It's a great resource that will help you now and in the future.