I was an elementary student at Calvert School in Washington DC in 1963. Our school was connected to St. Matthews Cathedral, a prominent Catholic Church in the city noted for the fact it held the Catholic Funeral Mass for John F. Kennedy after he was killed. If you go to St. Matthew's today you will see a large circular marble mosaic in the floor near the sanctuary with the words, "Here rested the remains of President Kennedy at the requiem mass, November 25, 1963 before their removal to Arlington where they lie in expectation of a heavenly resurrection." Of the thousands of people in attendance at his funeral, Martin Luther King, Jr. was one of them.
During those years of the civil rights struggle, St. Matthew's was a voice for social justice. One of the younger priests in residence at the church took it upon himself to expose the Calvert School elementary students to the social issues of the day, particularly the Civil Rights movement. It was with him and a few of my classmates that I attended the March on Washington and heard Martin Luther King, Jr.'s "I Have a Dream" speech. We heard numerous speakers throughout the day and to my young ears they were all loud and exciting. But Dr. King's speech was thunderous and drove the already elated crowd to a state of rapture. Even though I could not comprehend the scope of the issues that drew people to the mall that day, I too was caught up in the magic of the moment.
As I watched the "Let Freedom Ring" speeches today I was stuck by how little and how much has changed since August 28, 1963. As Jimmy Carter, Forrest Whittaker, Oprah Winfrey, Congressman John Lewis, Bill Clinton and Barack Obama summarized, today, as in 1963, we as a nation are still struggling with issues of discrimination and injustice such as entrenched poverty, homelessness, voting rights violations, racial profiling and the high rates of incarceration of young black men, just to name a few. Of course, there has been progress over the decades as well. According to Census reports, the percentage of blacks who graduated from high school jumped to 85 percent in 2012, from 25.7 percent in 1964, while the number of black Americans with at least a bachelor's degree rose to 5.1 million from 365,000. Additionally, the percentage of blacks working in executive, administrative or managerial positions rose to more than 8 percent in 2011, from a little over 1 percent in 1960.
In the last fifty years leading up to today, there have been gains and there have been losses, all of which have been met with considerable debate if not troublesome disagreement. But throughout our 50 year legacy of the civil rights movement, there is one thing we all agree on: Dr. King's "Dream" speech, which I heard again in its 17 minute entirety today, remains the greatest speech of the 21st century. As most scholars, historians and politicians agree, it holds this honor because of Dr. King's immeasurable capacity to inspire hope.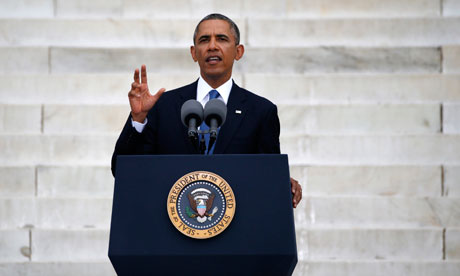 So how did Obama, the new chronicler of hope, measure up to Dr. King? It seems unfair to compare the two men yet we can't resist. King was a preacher who turned the steps of the Lincoln memorial into a pulpit and delivered a sermon to many. He used parables from the Bible, metaphors that everyone could understand. He began slowly, carefully, keeping the pace controlled, showing little physical or vocal emotion. It was like watching a jockey hold back a race horse until the turn into the home stretch. Because I've seen this speech many times I knew what was coming and when it did, when he released the phrase "Let Freedom Ring" with the thunder of his voice, the power of his cadence and the surety of his eloquence, I was just as moved as I was when listening as a young child 50 years ago.
Obama gave a great speech today, there is no question. He too began slowly, carefully, building his case step by step with an even tempo, controlled body language and earnest facial expression. He began to build energy with his phrase, "Because they marched," which subtlety referenced—at least in technique—to the "I have a dream" phrase.
But then he receded and pulled back again. When I wanted him to drop into "storyteller tone," he became cerebral. When I wanted metaphor, he delivered fact. He seemed to be speaking one level above his audience, more conceptually, using longer sentences and denser themes. I found myself working too hard to follow along.
I wanted him to make it easy for me so I could be swept up emotionally in the historical greatness of the day. After all, this wasn't a speech to the government or congress. This was to us, the American people. I wanted him to bring it home. Yes, he crossed the finish line with force and power, ending on a high note, but still I wanted more. I wanted him to step into the skin of Dr. King and breathe in the vigor of his vision, expelling it back to us on fire.
Too much to ask? Impossible expectations? Yes, certainly. But I'm a speech coach. And when the greatest speech of your lifetime happens to you when you're a child, your fantasies forever exceed reality.