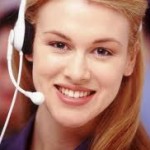 I have been working with a recent college graduate who is seeking an entry level job in sales and he is finding that many of the positions available are cold calling, telemarketing positions. While I am not certain that sitting behind a desk, on the phone for 80-100 calls a day, is the best fit for this young man, his job search got me thinking…
What does it take to properly convey your message and deliver a captivating presentation over the phone?
Even if you're not a telemarketer, you're likely giving phone presentations every day. Think about it…we live in a world saturated with technology. Tools like Skype, GoToMeeting, and Telepresence are common in business, and you probably use them often. Yet, how much thought have you given to using these presentation options effectively?
When you're using any one of these tools, you are essentially giving a presentation over the phone. You have to deliver your ideas without the benefits of a face-to-face meeting, or you have to speak to an image on a computer screen. When you're faced with these situations, how can you use your public speaking skills and prevent your message from going down in flames?
Here are a few things to remember when trying to be persuasive over the phone or when videoconferencing:
Vary your vocal emphasis and inflection.
You're on a conference call and your presentation is on the computer screen via GoToMeeting. You are talking about profit and loss margins, ROI, and, synergy. You're using as much business jargon as you can to impress your clients. However, you forgot one thing: your shining personality!
Too many speakers deliver bland presentations in live settings, let alone over a conference call. To be compelling and interesting when you're not physically there, you need to vary your vocal delivery. Using emphasis and inflection on key words helps your audience stay engaged.
Don't let yourself drone on in order to get through your meeting. Rather, give your audience the opportunity to glean extra meaning from your words with some variety in your intonation and some diversity in the range of your voice.
Pay attention to your clarity and speed.
When speaking to a group in a live public speaking situation you always want to articulate clearly and talk slowly. When speaking to a group over the phone or via your computer, you need to pay extra attention to these points.
I cannot stress this enough. Producing a clear voice and a clean sound from a computer microphone or a speakerphone is difficult. Words will inevitably be lost due to static and choppy internet connections. So open your mouth, raise your volume, enunciate clearly and slow down.
When you speak slowly and articulate clearly, you enable your audience to catch every word, even if there is static or connection choppiness, so they don't lose the entire meaning of your content. Give your listeners the chance to keep up and they will give you their full attention.
Smile and enjoy yourself!
While your audience may not be able to see you, they certainly know when you are smiling. Whenever you deliver an exciting and emotional presentation, whether in person or over the phone, feel it! Show your emotions through your facial and physical gestures; your audience on the other end of the line will absolutely be able to follow along.   
When you are excited and smiling, your voice naturally changes pitch. It is just as easy to recognize those speakers who enjoy themselves over the phone as it is to recognize those who simply run through the motions. Therefore, enjoy yourself and let your colors shine through. Your virtual audience will thank you for it with their rapt attention.
When you follow these three tips, you'll be able to give virtual and phone presentations that engage both the hearts and minds of your listeners….and that inspire them to action.