In entertainment, performance, and even public speaking, props play an important role when creating an image or making a key point. Whether your prop is something you hold or something you wear, your audience will connect it to your message, thus making your points more memorable.
For example, I know a professional speaker whose signature prop is a hat. She wears one every time she gives a speech, and her audiences have come to expect it. She is so well known for her hats that her audience once arrived to her event all wearing hats—in tribute to her. That's the kind of contagious prop that is worth cultivating.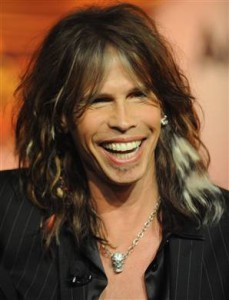 But the prop to end all props right now is Steven Tyler's hair feathers. Yes…hair feathers. And according to a story I recently heard on NPR, the popularity of his feathers is placing big demands on Whiting Farms, the feathers' producers.
Located in western Colorado, Whiting Farms sells feather products for fly-fishing to over 50 countries. They specialize in raising specific chickens and roosters, and are well known for providing top flies to fly fisherman. They have a loyal customer base who create their own flies and who swear by the feathers Whiting Farms provides. Apparently, fly-fishing is a creative process and the fishermen say that the rooster feathers they buy from Whiting Farms are an integral part of the success in catching fish.
Now here's the dilemma: Ever since Steven Tyler has been wearing these feathers in his hair, thousands of young girls want feathers in their hair too. And just any old feather won't do—they want the exact same feathers Tyler wears. Whiting Farms is having a tough time keeping up with the demand from this new market.
This just goes to show how much impact a seemingly simple prop can have. If you follow American Idol (or if you're a fan of Steven Tyler), you probably know that Tyler is always in costume. Even though he appears rather disheveled, everything he wears has been meticulously selected, coordinated, assembled, and crafted to create the image of what we see each week. Nothing is left to chance. As Tyler once said, paraphrasing Dolly Parton, "You have no idea how much it costs to look this cheap."
Even his hair feathers from Whiting Farms are strategically placed. Now the feathers have become all the rage in boutiques throughout America as customers ask their stylists to integrate feathers into their every day hair styles.
As a result, Whiting Farms can't keep up with the demand from the salons. At least 50 percent of their inventory is going to the salons now, and even when they raise their prices, the salons still order the feathers. The farm is actually concerned that they may lose some of their loyal fly fishermen because they can't meet the demand.
So what's your prop? What key item or piece of clothing can become your signature—something that increases your recognition and makes you memorable? From hats to feathers, the possibilities are endless. Just please choose wisely—you don't want your prop to ruffle any feathers!