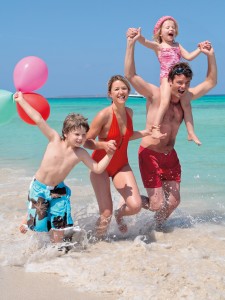 My husband and I celebrated our wedding anniversary in Hawaii last week and went to the beach every day. To me, swimming in a warm ocean, unlike the cold San Francisco waters, is one of life's greatest pleasures. We spent the majority of our time swimming, snorkeling, and body surfing. But we also had plenty of time for my other favorite beach activity—people-watching. That's when I discovered the link between public speaking and playing with your kids.
We watched as young families arrived in colorful clothes and weighted down with beach gear. Like all of us do when we arrive at the beach, they laid out their towels, put up chairs and umbrellas, and carved out their space for the day. Then the parents turned their attention to the kids. They lathered them with sunscreen, laid out the snacks and emptied the beach toys. I saw one toddler covered in sun protection from head to toe—sun suit, hat, sunglasses, and even little boots to protect his feet.
Once the sunscreen was applied and the toys assembled, the kids began to play in the sand and dip their toes in the water. That's when the parents took out their cameras to take pictures—lots and lots of pictures. And then the parents retired to their chairs to sit back and watch the kids play.
There's nothing wrong with being a fussy parent (I know I was one), but I do see missed opportunities for enjoyment and family bonding when all you do is "fuss" and watch. After all, what are vacations for if not for bonding, closeness, and that all too brief special time that vacations provide to create wonderful experiences and lasting memories?
In my beach time observations I saw one model family. They arrived weighted down like all the others, the kids helping to carry and set up some of the gear. They set up shop, lathered with sunscreen, and did all the requisite fussing. Then the dad scooped up the baby and walked down to the ocean, ushering the other two toddlers who ran beside him. Then he scooped up everyone and headed into the surf. As the waves tumbled around his small brood he never stopped laughing, smiling, tussling, and encouraging. He made it fun and safe for his kids to play in the water. I couldn't keep my eyes off the energy and joy of this man. And when the mom joined in the fun, he scooped her up too—at one point holding everyone and bouncing in the waves.
This kind of personal energy, leadership, and magnetism was compelling to witness, and in my musings I imagined that this dad was probably a magnanimous public speaker too. I realized in watching this dad that when someone knows how to "play" with their kids, they inherently know how to create trust. They are willing to give generously of their time, energy, and attention—and those are the same ingredients necessary to be a good speaker. Knowing how to create excitement, inspire others, and lead them in an experience—whether enjoying the ocean or supporting an idea—are the same traits.
So if you want to become a better public speaker, take the time to play with your kids.