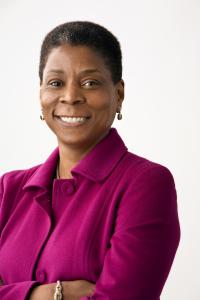 I just learned that Ursula Burns, CEO of Xerox, will be in the Bay Area next Wednesday (6/29/11) giving a presentation with George Colony, CEO of Forrester Research. And here's the best part of all: You're invited to attend (and for a discounted rate—see the end of this blog for a special offer for DeFinis Communications readers). The event with Burns and Colony is being presented by the Churchill Club, Silicon Valley's premier business and technology forum.
Titled, "When Two Luminaries Meet: Ursula Burns, CEO of Xerox, in conversation with George Colony, CEO of Forrester Research," the event promises to be an unscripted, candid conversation between two powerful global business leaders about topics that matter to our economic success as a nation, as companies, and as individuals. Topics for discussion include innovation, the economy, leadership, recent "aha moments," how they're viewing the market, and more.
In July 2009, when Burns was first appointed CEO of Xerox, I wrote a blog about the accomplishment. You can read it here. What impressed me about Burns and prompted me to write about her was the fact that she was the first African American woman to lead a major Fortune 500 company. She was also the first woman in modern history to take the reins from another female, departing CEO Ann Mulcahy. Since then, Burns has led Xerox through the acquisition of Affiliated Computer Services, in a move to transform the company once known for copiers into the world's leading enterprise for business process and document management.
In a world where there are too few women in C-suite positions, we need women like Burns to speak out and show everyone what is possible. Burns wasn't born with a proverbial "silver spoon" in her mouth. Rather, she was raised in a housing project by a single mother. She beat the odds and went on to earn a bachelor's degree from Polytechnic Institute of NYU in mechanical engineering and a master's from Columbia University. She started at Xerox as a summer intern, and over a 30-year period she worked her way to become the CEO. She serves on boards such as American Express, National Association of Manufacturers, University of Rochester, and the MIT Corporation. She helps lead Obama's national program on STEM (science, technology, engineering and math), and serves as vice chair of his Export Council. In 2009, this impressive woman ranked ninth in Fortune's list of the 50 Most Powerful Women in Business. Yet she is known as one of the most down-to-earth CEOs you will ever meet. She is truly the kind of role model we all need.
The Churchill Club has asked Burns and Colony (who was a recipient of the Ernst & Young Entrepreneur of the Year Award in 2006) to have a public conversation on the evening of Wednesday, June 29 in Palo Alto, CA. So mark your calendar for this dynamic and inspiring event:
Date:
Wed., June 29
Time:
5:30 p.m. Registration and networking
6:00 p.m. Banquet (plated dinner)
7:15 p.m. Program begins
8:45 p.m. Program concludes
Place:
Four Seasons Hotel Palo Alto
2050 University Ave
East Palo Alto, CA 94303
RSVP:
http://www.churchillclub.org/eventDetail.jsp?EVT_ID=907.
Use discount code "gDeFinis15" and get $15 off the non-member price of $107.
Contact Churchill Club at [email protected] for group discounts.
Hope to see you there!