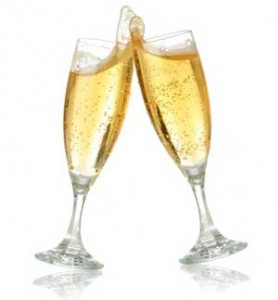 June is here, and 'tis the season…for giving a toast at your best friend, sister, cousin, or mother's wedding. That's right, mothers can re-marry later in life, and if you are an adult child, you may be asked to toast your mother.
This is exactly what happened to my good friend Dawn Josephson. Dawn is a writer, editor, and writing coach whom I have worked with on many writing projects since 2005. Over the years, we've gotten to know each other, and she's gotten to know my presentation skills content quite well.
I was on the east coast recently and hoped to meet up with Dawn, since we rarely have a chance to see each in person, but she told me she wasn't available because she was heading to Florida to celebrate her mother's wedding. As her mother's matron of honor, you would think that she would have planned a toast but the idea never came up—in her mind, that was the best man's job. So she was quite surprised when the  DJ announced, "Okay, everyone, it's time for the toasts from the best man and matron of honor.  Ladies first…come on up Dawn."
While her heart may have stopped beating for a moment, Dawn didn't miss a beat. She confidently walked up the microphone and she used my triangle model for giving toasts.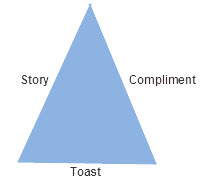 I like to think of toasts in threes. You can put together any toast, either ahead of time or on the spot, if you just remember this simple formula.
Point 1: Start with a story.
You can begin by saying, "I'd like to start by telling you a story about… (my mother, my brother, my best friend, etc.)." Then, simply tell a touching, funny, or uplifting story from your past that highlights something personal.
Point 2: Give a compliment.
This is your segue between your story and your toast. Even though the story you tell will be complimentary in some way, you still want to give the person you're toasting a general compliment. By doing this, you're building a bridge that will move your listeners from the story and into the toast in a natural and conversational way. At this point, Dawn said something like, "My mother was an amazing parent who showered me with volumes of love, as well as kept me on a tight leash."
Point 3: Make the toast.
Finally, use the compliment as the springboard to your toast. Since Dawn talked about the "volumes of love" her mother gave, she led into her toast by saying, "Today, she still has more than enough love to give to all of us- especially to her new husband who we are happy to welcome into our family. Let's raise our glasses and wish them both a lifetime of happiness."
This toast formula will work for any occasion, whether at a retirement party, a bachelor party, a wedding for people of any age, or any other event where you want to celebrate and honor someone.
So this June, give a toast! Remember the triangle and pour your heart and humor into it!