The word "enchant" means to cast a spell on or bewitch; to delight or captivate utterly; to fascinate; charm. Guy Kawasaki's new book, Enchantment, The Art of Changing Hearts, Minds and Actions, has given us a new spin on a more traditional approach to persuasion, influence, marketing and customer care.
Kawasaki defines enchantment as "the process of delighting people with a product, service, organization or idea. The outcome of enchantment is voluntary and long lasting support that is mutually beneficial." He adds, "The greater your goals, the greater you'll need to change people's hearts, minds and actions." And then he sets out to give us a step-by-step process for creating enchanting relationships.
This book is for anyone who has ever dreamed a dream and wanted to see it materialize. If you are a small business owner or entrepreneur, if you work for a large enterprise, or if you're a recent college graduate, you'll find tips in Kawasaki's book that will help you engage your prospects or customers so that you can compete in this changing marketplace.
With such chapters as "How to Achieve Likability," How to Achieve Trustworthiness," "How to Prepare," and many others, Kawasaki gives tools for mounting a campaign that is geared to achieve your vision and goals by creating powerful relationships. The book is packed with interesting personal profiles, from everyday working people to celebrity icons such as Steve Jobs and Al Gore. And because the book took a year to write and a lifetime of experience to create, it is loaded with background research, which provides a nice balance to the short paragraph format. I especially enjoyed his "hat tips," where he acknowledges anyone whose idea he shares. 
Yes, this is a great book for the everyday entrepreneur, but is the concept of "enchantment" too soft for the C Suite? In a recent Forbes interview, Steve Denning asked Kawasaki how he communicates enchantment as a business proposition to CEOs, CFOs, and other senior leaders. How does he persuade this serious group that they too need to be in the business of enchantment?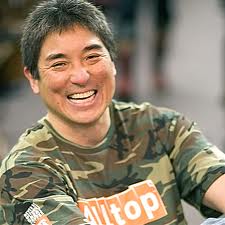 "The best way is to use examples," says Kawasaki. "Wouldn't you like to have the evangelistic base of Apple or the likeability of Virgin America? Wouldn't you like customers to trust you the way they trust Zappo's, so that they will buy shoes, sight unseen? Even the most hard-core pencil-pushing bean-counter will have to say, 'Yeah, I wish we were Apple or Virgin America or Zappo's! That's not such a bad place to be.'"
If you want to get a taste of your company's ability to cast a spell and enchant your audience, listeners, customers, or prospects, take this test Kawasaki created: Guy's Realistic Enchantment Aptitude Test (GREAT). Then, no matter what your results are, read Enchantment. You'll get practical, doable suggestions that could just make your company the next Apple. Now, wouldn't that be great!